Titles Update
Moremac Property Group is committed to ensuring purchasers get access to their lots as soon as possible. However delays may occur due to unforeseen weather conditions or construction setbacks.We encourage buyers to check this website for updated information.
Click here to View Forecast Title Dates
Stages 1A, 1B, 1C, 1D, 4A & 4B
Aerial Video - December 2017
Click to view
Successful Laguna Precinct Release
Monday, 18th December 2017
Since launching its Laguna precinct in November 2017, land releases at Alira at Berwick have proven exceedingly popular, with all available lots selling out within days of their release.

Currently, there are a limited number of lots still available - ranging in size from 315sqm to 505sqm - in the last release so potential buyers will need to move fast.

Nestled in the heart of the project, the Laguna precinct offers future residents the perfect location. Situated a stone's throw away from a network of impressive waterways, the local football field and the future retail centre – it's not surprising these lots were snapped up so quickly.

With another Laguna Release scheduled for January 2018, prospective buyers are encouraged to register their interest as soon as possible to avoid disappointment.
Click here for the full story
Optical Fibre now ready at Alira
Tuesday, 17th April 2018
Alira will be fibre ready when you move in, and OptiComm's service provides residents access to premium, super-fast broadband internet, as well as foxtel and related optical fibre services.
Benefits of super-fast broadband internet:
Download full length feature movies and music in minutes
Play the latest online games
Use multiple high bandwidth applications at the same time without slowdown
Watch all free-to-air television channels (no antenna required)
Install IPTV, Fetch TV and foxtel
Wifi in public-open spaces
Access to digital radio
Click here for the full story
Herald Sun - Alira Last Piece of Gold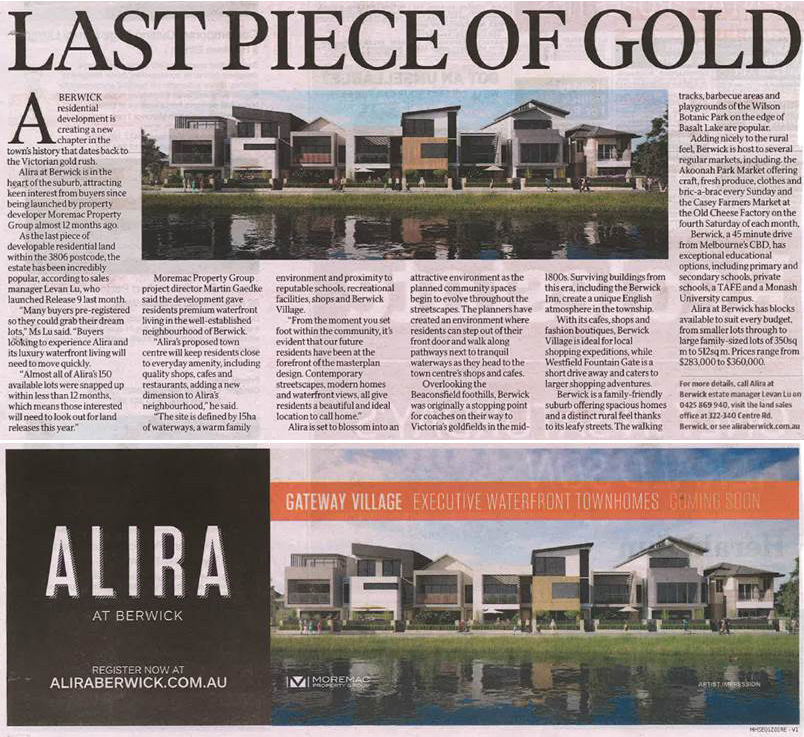 Click here for the full story