Titles Update
Moremac Property Group is committed to ensuring purchasers get access to their lots as soon as possible. However delays may occur due to unforeseen weather conditions or construction setbacks.We encourage buyers to check this website for updated information.
Click here to View Forecast Title Dates
Stages 1A, 1B, 1C, 1D, 4A & 4B
Aerial Video - December 2017
Click to view
Successful Laguna Precinct Release
Monday, 18th December 2017
Since launching its Laguna precinct in November 2017, land releases at Alira at Berwick have proven exceedingly popular, with all available lots selling out within days of their release.

Currently, there are a limited number of lots still available - ranging in size from 315sqm to 505sqm - in the last release so potential buyers will need to move fast.

Nestled in the heart of the project, the Laguna precinct offers future residents the perfect location. Situated a stone's throw away from a network of impressive waterways, the local football field and the future retail centre – it's not surprising these lots were snapped up so quickly.

With another Laguna Release scheduled for January 2018, prospective buyers are encouraged to register their interest as soon as possible to avoid disappointment.
Click here for the full story
Exploring your future community
Wednesday, 22nd August 2018
Real estate in Berwick is highly sought out and the suburb has seen rapid growth. It's the high quality of community facilities available at your fingertips that makes Berwick so popular. From wide open local parks, community markets and shopping, through to the schools and local attractions, there's no question why Berwick is so popular.
With so much to offer in Melbourne's south-east, the best way to get to know the growing community of Berwick is to visit and experience it firsthand.
So, what are some of the highlights to check out in Berwick?
•Explore Berwick's parklands – With massive wide-open parks scattered around Berwick, there is no shortage of space for your family and friends to enjoy. One of the best parks is the Wilsons Botanic Park, which attracts visitors far and wide for its picturesque scenery, abundance of native animals, and intricate walkways on the edge of Basalt Lake.


•Travel back in time at the Old Cheese Factory – The historic Old Cheese Factory, featuring the 1860s Springfield Homestead, Cheese Factory and Kitchen Wash House, is a reminder of Australia's early history. Berwick's history is well preserved and the Old Cheese Factory has something for everyone, from art and crafts programs, to farmers' markets, to performing arts activities.


•Eat some delicious food at the markets – Berwick has a range of community markets where you can pick up quality fresh produce, quirky gifts and delicious sweet treats. With a range of markets including Berwick Country Craft Market, Akoonah Park Market and Berwick Farmers Market there is no shortage of markets for you to explore.


•Shop till you drop – Shop to your heart's desire at Westfield Fountain Gate packed full of department stores for all your fashion and homeware needs. Alternatively, if you just need to pop to the bank, top up the pantry, or want some freshly baked bread you can head to Eden Village.


•Want to keep active? – With a core focus on health and wellbeing Berwick has plenty of places to get your health fix. With more than 230kms of shared pedestrian and cycle paths, along with the Casey Aquatic and Recreation Centre and Berwick Tennis Club, Berwick has everything you'll need to maintain an active lifestyle.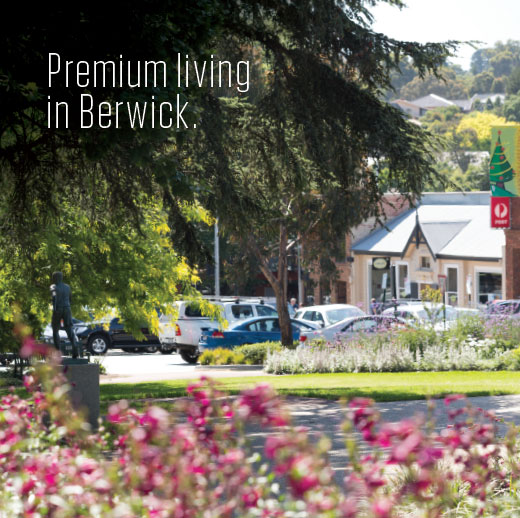 Click here for the full story
Optical Fibre now ready at Alira
Tuesday, 17th April 2018
Alira will be fibre ready when you move in, and OptiComm's service provides residents access to premium, super-fast broadband internet, as well as foxtel and related optical fibre services.
Benefits of super-fast broadband internet:
Download full length feature movies and music in minutes
Play the latest online games
Use multiple high bandwidth applications at the same time without slowdown
Watch all free-to-air television channels (no antenna required)
Install IPTV, Fetch TV and foxtel
Wifi in public-open spaces
Access to digital radio
Click here for the full story
Herald Sun - Alira Last Piece of Gold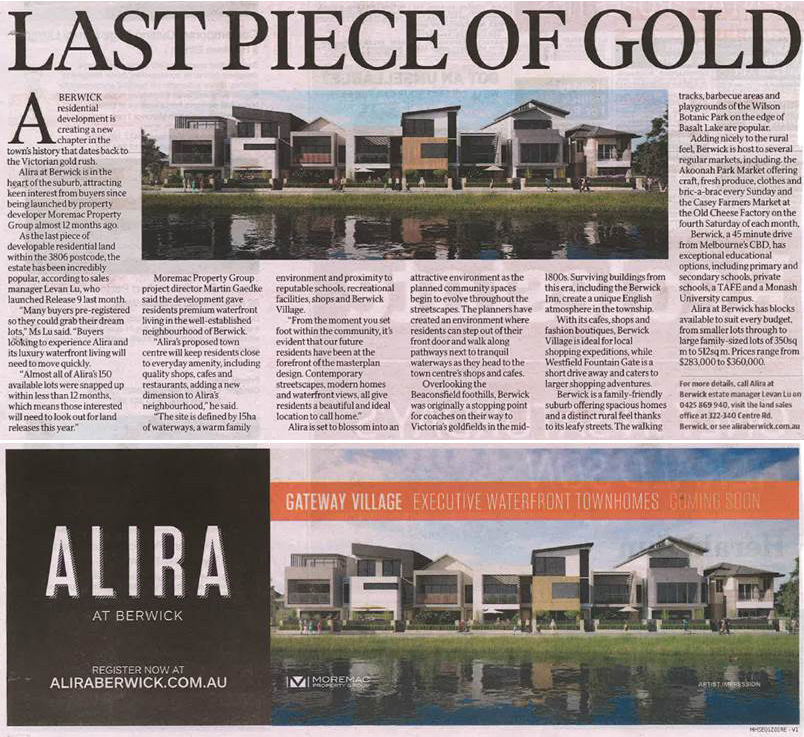 Click here for the full story
A Family-Friendly Neighbourhood
Thursday, 13th September 2018
Looking for a new neighbourhood? Try this check list to get you on the way to finding that perfect family-friendly neighbourhood to match your needs.
When you break it down, the new home journey really is a series of big moments and new experiences, with a few thousand decisions to make along the way. One of the important decisions to make from the beginning is where you want to be, to see your family grow, make lifelong friends and feel that sought-after sense of belonging. But, for those on the search around the Berwick and Narre Warren areas, where is the best place to start?
Try this check list to get you on the way to finding that perfect family-friendly neighbourhood to match your needs.
1. Walk in the Park
While most new communities will promote their planned abundance of open space and parkland, it's worthwhile reviewing the scope of amenity in regard to offering something for all ages. Whether it be toddler play areas with soft fall surfaces and intuitive spaces to explore, or skate zones and ball courts for the older kids, BBQ and picnic areas, walking paths and bike routes, a good mix of activities is important. Equally worth reviewing is the distance to 'green space' from each allotment, it's much more appealing to be able to walk to the park instead of driving.
2. Getting Around
Transport systems and routes are not added later but rather incorporated into the design of the estate. While your new community may have plans for specific bus routes and transport to established rail networks, it's important to understand when this will become a reality, particularly if you rely on these services for work and school travel. Additionally, being close to key points for access to the CBD and airport are important factors.
3. School Zones
It's a given to check out educational centers both within your new community and surrounding areas, even if your family is just beginning. Some schools will offer enrolments based on a prescribed zone, which means it's worth researching what new schooling options are planned for the future and what you will have access to.
4. Everything You Need
While we don't mind jumping in the car for those more involved shopping trips, when it comes to the groceries, popping into the bank and picking up scripts at the pharmacy, it's nice to have everything you need within easy access. And, don't forget to check out the closest coffee spots and dining out options. Whether it's Berwick restaurants, the Narre Warren library or the closest Nando's, checking out what's in your new neighbourhood can help make the important decision!
5. A Community That Plays Together
More than words in a brochure, community engagement really is an important consideration. It's the glue that makes new areas tick, can reduce crime and vandalism and is a great way to make new connections and friends. It's worth checking out what activities are planned for residents, such as Auskick, exercise groups, mums and toddlers meet-ups and Men's Sheds, all great opportunities to get involved with locals.
6. When it Feels Right
At the end of the day, you will most likely have a pretty good idea of your perfect community from the moment you step foot in the area. Our first impressions do count for a lot, and you can't beat getting a first-hand feel for the real community - take some time to explore the area, play in the parks, and meet the locals.
To find out more about everything the Alira community has to offer, get in contact with the friendly sales team via email on alira@rpmrealestate.com.au, call them on 0425 869 940, or drop in to the Land Sales office located at 322-340 Centre Road, Berwick.
Click here for the full story