CONSTRUCTION UPDATES
November 2018
CLICK TO VIEW
ROUNDABOUT UPDATES
Feburary 2019
CLICK TO VIEW
First summer newsletter.
Tuesday, 18th December 2018
Alira's new residents have been meeting each other at the community's first series of street BBQs.
Click here for the full story
Alira Community Testimonials
Friday, 1st February 2019
The Tawfilis Family
Three years ago, Joe and his wife decided it was time to move to a larger home in an area that suited the growing needs of their young family. After extensive research, they found the perfect home at Alira at Berwick: a four-bedroom, 28 sqm property. They moved in July 2018 and haven't looked back......
Click here for the full story
ALIRA STREET BBQ
Tuesday, 11th December 2018
Thank you to all residents from Stages 1D, 4A and 4B who attended Alira's first community BBQ last Thursday.
Click here for the full story
Benefits of House & land packages
Friday, 23rd November 2018
Do you find the block first and then start looking at home designs? Or, maybe fall in love with the home first and then look for a block to fit. The order of things can differ from home buyer to home buyer, and both options have pros and cons.
Click here for the full story
The Moremac Edge
Thursday, 18th October 2018
When it comes to reputation, it comes as no surprise why the Moremac Property Group continues to be the choice of so many buyers looking for their dream neighbourhood.
Click here for the full story
Is it time to upsize?
Monday, 15th October 2018
For some it's about getting an extra bedroom, or more living space, while for others it's to add a home office, or more outdoor area for active kids and entertaining, and there's a few things to consider.
Click here for the full story
Landscaping of your home
Wednesday, 10th October 2018
As you stand before your dream house, you're now eager and excited to head to the local nursery to pick out trees, shrubs and flowers to make the house a home.
Click here for the full story
A Family-Friendly Neighbourhood
Thursday, 13th September 2018
Looking for a new neighbourhood? Try this check list to get you on the way to finding that perfect family-friendly neighbourhood to match your needs.
Click here for the full story
Exploring your future community
Wednesday, 22nd August 2018
Real estate in Berwick is highly sought out and the suburb has seen rapid growth. It's the high quality of community facilities available at your fingertips that makes Berwick so popular.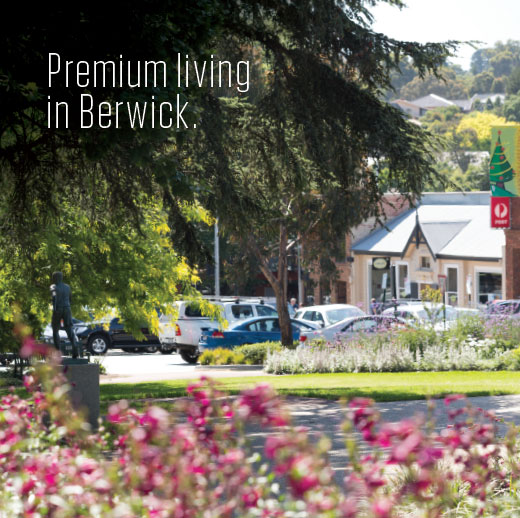 Click here for the full story
Optical Fibre now ready at Alira
Tuesday, 17th April 2018
Alira will be fibre ready when you move in, and OptiComm's service provides residents access to premium, super-fast broadband internet, as well as foxtel and related optical fibre services.
Click here for the full story
Successful Laguna Precinct Release
Monday, 18th December 2017
Since launching its Laguna precinct in November 2017, land releases at Alira at Berwick have proven exceedingly popular, with all available lots selling out within days of their release.
Click here for the full story
Herald Sun - Alira Last Piece of Gold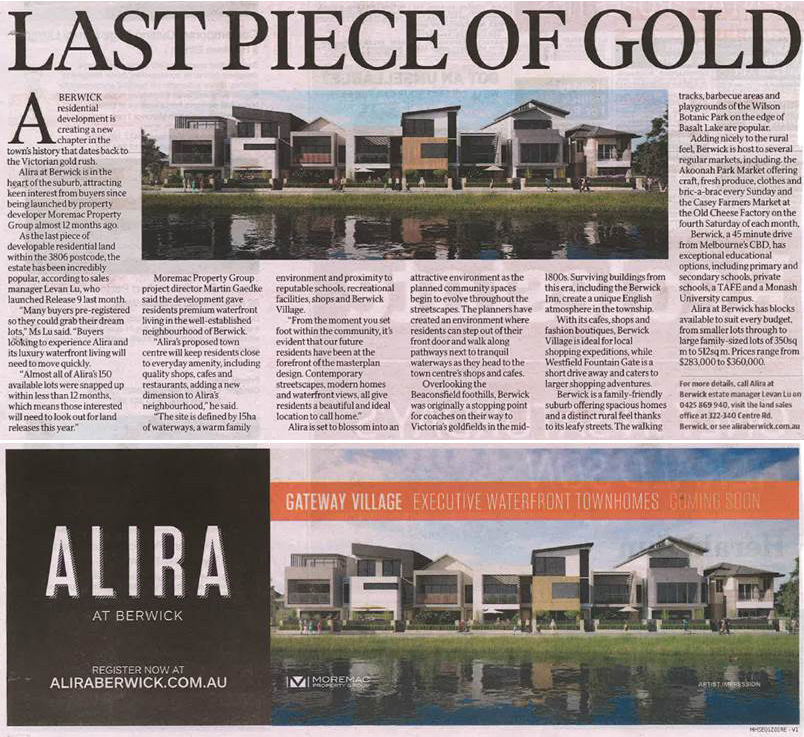 Click here for the full story